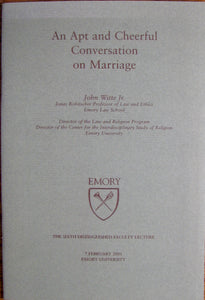 Witte, John Jr. An Apt and Cheerful Conversation on Marriage. Atlanta, GA: Emory University, 2001. First Edition.
Stiff paper wrapper, 6 x 9, 35 clean pp. New. Paperback.  [120] 
The Sixth Distinguished Faculty Lecture given 7 February, 2001.

"Argues that modern Anglo-American marriage law was formed out of two traditions - one rooted in Christianity, a second in the Enlightenment. Each of these traditions has contributed a variety of familiar legal ideas and institutions of modern domestic life, lore, and law - some overlapping, some conflicting. The overlapping and creatively juxtaposed legal contributions of these two traditions hold the promise of creating a new understanding of marriage that is neither blindly nostalgic about a purported golden of marriage nor naively myopic about the massive social, psychological, and structural costs of the modern revolution of sex, marriage, and family." - Publisher's abstract.