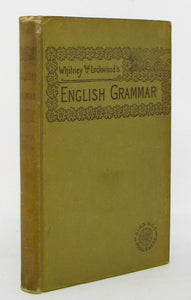 Whitney, Wm. D.; Lockwood, Sara E. H. An English Grammar for the Higher Grades in Grammar Schools adapted from "Essentials of English Grammar"; With New Arrangement and Additional Exercises Suitable for Younger Pupils. Boston: Ginn & Company, 1898. [6314]
Olive cloth, light rubbing to corners & ends, 5 x 7 1/2 inches, v., 264 clean pp., tight. Very good. Hardcover.

First published in 1892. Sara Elizabeth Husted Lockwood, b. 1854, American educator and author/editor of school textbooks.

"This adaptation of Whitney's Essentials of English Grammar is designed to furnish a simple and practical text-book for pupils who are not of sufficient maturity to use with advantage the original work. To this end, a new book has been made with topical arrangement, abundant exercises of a more elementary style, and a generally simplified treatment." - Preface.