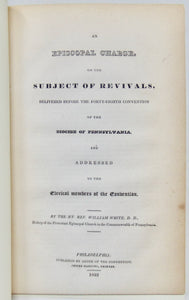 White, William. An Episcopal Charge on the Subject of Revivals, delivered before the forty-eighth convention of the Diocese of Pennsylvania, and addressed to the Clerical Members of the Convention. Philadelphia: Published by order of the convention, 1832. First Edition. [4850]
Removed, new acid-free wrapper, 8 1/4 x 5 3/4 inches, 21 pp. . Good. 
No. 5732 in Roberts, Revival Literature: An Annotated Bibliography. "Criticism of revivals by an Episcopal leader."

White asserts that the Holy Spirit is effectual and evident in true revivals, and that although there may be an admixture of good and evil in the popular revivals then present, the extravagances and "animal sensibility" of the events were not signs of the Holy Spirit.

William White (1748-1836), first and fourth presiding bishop of the Protestant Episcopal Church, chaplain to the Continental Congress, second US Senate chaplain, and the first bishop of the Diocese of Pennsylvania.