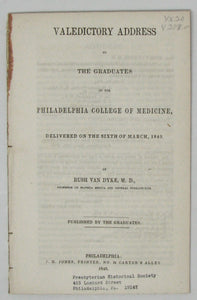 Van Dyke, Rush. Valedictory Address to the Graduates of the Philadelphia College of Medicine, delivered on the Sixth of March, 1849. Philadelphia: Published by the Graduates | J H. Jones, Printer, 1849. First Edition. [1207]
Removed, 5 1/2 x 8 1/2, no wrapper. 16 pp., institutional ink stamp on front. Good. Pamphlet.

The author was Professor of Materia Medica and General Therapeutics at the college.
"The irritability formerly considered to be peculiarly characteristic of doctors, poets, and painters, is a disease, says Dr. Gibson, seldom seen, except among hot and rebellious graduates, fresh from the schools. The courtesy and respect which have appeared to distinguish your intercommunications as students, indicate the honorable, frank, and straight-forward course of conduct which will distinguish your future professional career. Professional etiquette, gentlemen, sums itself up in one great golden precept."