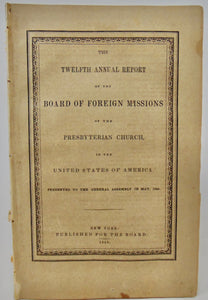 The Twelfth Annual Report of the Board of Foreign Missions of the Presbyterian Church in the United States of America; Presented to the General Assembly in May, 1849. New York: Published for the Board, 1849. First Edition. [9140]
Removed, includes the gray printed wrapper, 8 3/4 x 5 1/2 inches, 61 (1) pp., light foxing. Very good. Pamphlet.

Lists the new missionaries sent out and has reports from the following missions: Choctaw, Chickasaw, Creek, Seminole, Iowa and Sac, Otoe and Omaha, Chippewa and Ottawa, Liberia, Settra Kroo, India (Lodiana, Saharunpur, Sabathu, Ambala, & Jalandar), Furrukhabad, Allahabad, Siam, Canton, Amoy, Ningpo, Papal Europe, Missions to the Jews.

Those mission stations with printing presses list their productions for the year.