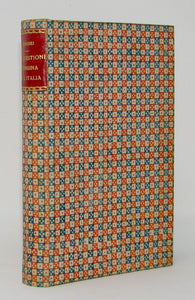 Tumedei, Cesare. La Questione Tunisina e L'Italia. Bologna: Zanichelli, 1922. 1st Edition. [822]
Patterned paper over boards, red leather spine title label, 18 x 12.5 cm, 277 clean pp., tight. Italian text. Very good. Hardcover.

Cesare Tumedei (1894-1980), Italian lawyer, "a personality of great importance in the political and economic history of Italy since the 1920s, as well as a generous benefactor who, with the bequest made to the Academy on his death, contributed between 1980 and 2000 a massive renewal of equipment of Roman hospitals." - Accademia Nazionale delle Scienze detta dei XL online.