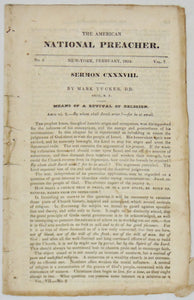 Tucker, Mark. Means of a Revival of Religion: The American National Preacher, February 1833; also, Alarm to the Careless, by the same author. New-York: The American National Preacher, 1833. [4607] 

Removed number, 8 1/2 x 5 1/2, 16 pp. (pp. 129-144), light foxing, pages a bit wavy. Good. Pamphlet.  
This single issue not in Roberts, but The American National Preacher as a series is included.

Mark Tucker, D.D. (1795-1875), b. Whitestown, NY; d. Wethersfield, CT. A minister who was pastor of both Congregational and Presbyterian churches, he graduated from Union College and then from the Theological Seminary at Schenectady, NY. Williams College gave him the honorary degree of D. D. in 1831. At the time of this publication he was a pastor of the Second Presbyterian Church in Troy, NY. He was for some time president of the Home Missionary Society and a corporate member of the ABCFM.

In this sermon Dr. Tucker seeks to answer the question of how a church in a low state may obtain a revival of religion. He give practical advise on the subject.