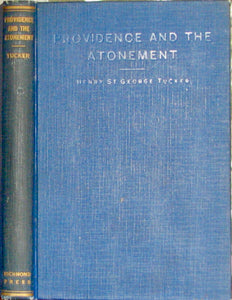 Tucker, Henry St. George. Providence and Atonement: Being the Bishop Paddock Lectures for 1933. Richmond, Va: Virginia Diocesan Library, 1934. [3611]
Blue cloth hardcover, 7 1/2 x 5 inches, former owner's signature on ffep, 182 clean pp., tight. Very good. Hardcover.

Chapters: The Atonement and the Christian Conception of Providence; Sin; The Treatment of Sin; Christ the Saviour; The Atoning Efficacy of Christ's Work; Christ Our Righteousness.