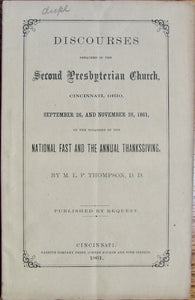 Thompson, M. L. P. Discourses preached in the Second Presbyterian Church, Cincinnati, Ohio, September 26, and November 28, 1861, on the occasion of the National Fast and the Annual Thanksgiving. Cincinnati: Gazette Company Print, 1861. First edition.  [305]
Printed wrapper, 9 x 5 3/4, center crease, 24 + 22 pp., very good.

Two sermons: I. The Sword; A Divine Judgment for Sin; II. Thankful for Everything.
Thompson states that a conspiracy has been formed for the overthrow of the government.
"We know that the advocates and supporters of the system of slavery determined upon nationalizing it, or at least of the failure of that, upon separating the States in which it exists from the free States, long ago marked out for themselves the course they would pursue, and from that day to this they have pursued it with a steady and unfaltering step...we can trace this whole rebellion through all its processes, from the egg in the nest and the bird that dropped it there, to the flight of its disastrous progeny. The rebellion has no secrets." pp. 12-13