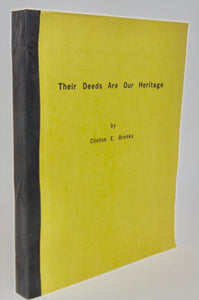 Brooks, Clinton E. Their Deeds are Our Heritage: The Story of Phillips, Pierson, Pearson, Dana Families and Indian and Colonial Events. Self Published, [1997]. [9059]
Number 16 of 50 copies produced.
Paper wrappers, 10 3/4 x 8 1/2 inches, 416 clean pp., slight shelf-wear. Very good. Paperback.

A record of genealogical research on the families named in the title, sometimes typed out, other times as photocopied excerpts from printed works. No date or place; WorldCat suggests a date of 1997 and possibly published in Ohio.