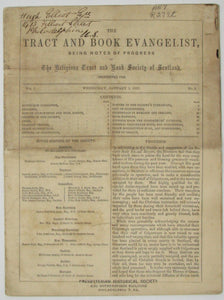 The Tract and Book Evangelist, being Notes of Progress of The Religious Tract and Book Society of Scotland, instituted 1793. Vol. I. No. 6, Wednesday, January 1, 1862. Edinburgh: Religious Tract and Book Society of Scotland, 1862. First Edition. [1500]
Periodical format, 7 1/2 x 10 inches, 16 pp., historical society ink stamp on front, contemporary signature of Hugh Elliot, Esq., Philadelphia. Sometime folded into eights, now flat. Good.

Articles intended to inspire and instruct on the ministry of distributing books and tracts, with reports on progress of the same. Includes list of subscribers' lists and a list of 124 Colporteurs and the 23 counties/districts where they operate in Scotland.
Also includes how many copies sold of Bibles, books, & periodicals in the last year. For instance, 1,946 copies of Pilgrim's Progress, 1,717 copies of James' Anxious Inquirer, &c.

A glimpse of book & tract evangelism as conducted in Scotland in 1862.