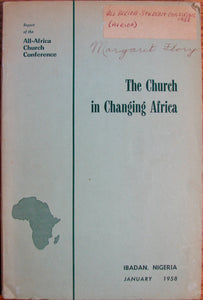 International Missionary Council ; Carpenter, George W. [foreword]. The Church in Changing Africa: Report of the All-Africa Church Conference held at Ibadan, Nigeria, January 10-19, 1958. New York: International Missionary Council, 1958. 1st .
Paper wrapper, 6 x 9, light scuffs and corner bumps, 106 clean pp. Ink signature and old paper label on front, ink name stamp on the tp. Good. Paperback.  [350] 
The addresses and papers of the Conference. Major themes are The Church, Youth and the Family; The Church and Economic Life; The Church and Citizenship; The Church and Culture; The Growing Church. Includes a 6-page list of attendees with their mailing addresses.