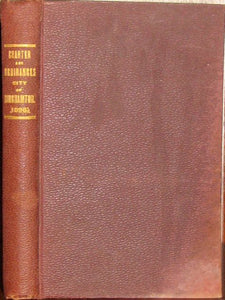 The Charter of the City of Binghamton, being Chapter 214 of the Laws of 1888, Passed May 2, 1888, with Amendments to Date, Also the Water Act and Ross Park Act, together with Ordinances and Rules of Order, passed by the Common Council. Binghamton, NY: Printed by Order of the Common Council, 1896. 1st .
Signed "Wm. F. Lentz, November 1st, 1896." Lentz was the Binghamton Fire Commissioner in 1896.
Good tight cloth hardcover binding, some old stains at the bottom edges of the binding, bottom corner slightly turned, 6 x 9, bright gilt lettering on the spine, 365 clean and unmarked pp. The section of the index pertaining to the Fire Department is bracketed by hand. Good. Hardcover.  [437]
With an extensive index. A view of Binghamton as it was.