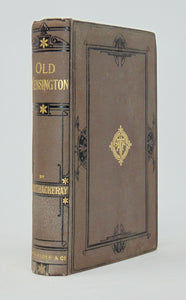 Thackeray, Miss. Old Kensington: The Works of Miss Thackeray, Volume 1. London: Smith, Elder & Co., 1908. [7451]
Light purple cloth decorated in black & gilt, 5 3/4 x 8 inches, extra engraved title page, x., 502 clean pp., tight. Very good. Hardcover.

This is volume one of a set but the compete story of Old Kensington.

"A long novel, full of musings on life that arise out of the incidents like the thoughs of an observer of actual events. Robert Henley is a scathing study of the genius prig; the heroine a gentle poetical nature, whose growth is traced from youth up. Descriptions of scenery, the Thames, London, Cambridge, illustrating its emotional effect on different kinds of temperament." - Baker, A Guide to the Best Fiction in English (1913), p. 90.