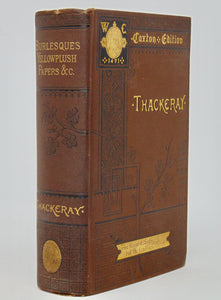 Thackeray, William Makepeace. Burlesques: Novels by Eminent Hands; Jeaes' Diary; Adventures of Major Gahagan; A Legend of the Rhine; Revecca and Rowena; The History of the Next French Revolution; Cox's Diary; Yellowplush Papers; The Wolved and the Lamb; The Bedford Row Conspiracy; A Little Dinner at Timmins'; The Fatal Boots; Little Travels. New York: Caxton Publishing Co., c. 1900. Caxton Edition. [7453]
Brown publisher's cloth decorated in black & gilt, binding clean and bright, 5 1/4 x 7 1/2 inches, former owner's name on the ffep, 814 clean and unmarked pp., tight. Very good. Hardcover.

With Illustrations by the Author and Richard Doyle.