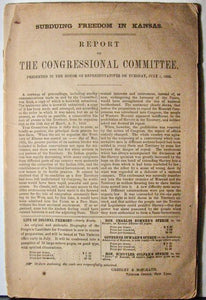 United States Congress. Subduing Freedom in Kansas: Report of the Congressional Committee, presented in the House of Representatives on Tuesday, July 1, 1856. New York: Greeley & McElrath, 1856. 1st Edition. [288] 

9 x 5 3/4 inches, 31 (1) pp. Thin chip top left of the front, starting to split at the fold of the printed wrapper.  Good. Pamphlet.  
An account of the troubles in Kansas from 1854 to 1856, including violent outrages committed to influence or to prevent voting in elections. Includes information on slavery, antislavery, Indian tribes, law enforcement, election results, &c.
An example: "Mr. Brown, with seven others who had accompanied him from Leavenworth, started on their return home. When they had proceeded a part of the way, they were stopped and taken prisoners by a party of men called the Kickapoo Rangers, under the command of Capt. John W. Martin." A mob riot ensues in the town where they are held, and Brown is killed with a hatchet after Capt. Martin leaves his post. P. 28 has the title, "Border Ruffian Laws in Kansas."