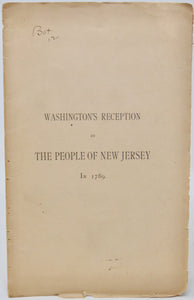 Stryker, William S. Washington's Reception by the People of New Jersey in 1789; Printed for Private Distribution. Trenton, N. J.: Naar, Day & Naar, 1882. First Edition. [8752]
Printed wrappers, 9 3/4 x 6 inches, a little edge-wear to the wrappers, 22 pp. Good. Pamphlet.

A remarkable account of the women who greeted President-elect Washington at Trenton in April of 1789 as he proceeded to the capital in New York City after his first election to the Presidency. The author collected the names of the matrons and maidens who were delegated as the reception committee, and gives brief accounts of their lives, and the service their husbands made during the Revolution. Some of the information was collected in the 1850's from persons still living who had witnessed the reception. The procession is described in detail and is a glimpse of the fervent patriotism of the first citizens of the United States, and of the honorable conduct of our first President.