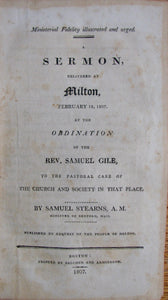 Stearns, Samuel. Ministerial Fidelity illustrated and urged. A Sermon, delivered at Milton, February 18, 1807, at the Ordination of the Rev. Samuel Gile, to the pastoral care of the Church and Society in that Place. Boston: Belcher and Armstrong, 1807. First Edition. [3108] 
Removed, new sewn acid-free wrapper, 8 1/2 x 5 inches, 40 pp., some foxing.  Good.  Pamphlet.

The text is Revelation 2:10, "Be thou faithful unto death, and I will give thee a crown of life."
The gospel minister must be attentive to his own heart first, he must have excellent attainments in knowledge, he must preach the Bible, and Stearns delineates how he must preach the Bible.

Samuel Stearns (1770-1834), b, Epping, NH; d. Middlesex, MA. He was the son of Rev. Josiah Stearns. Samuel graduated at Harvard College in 1794, studied theology with Rev. Jonathan French of Andover, and was ordained at Bedford, MA., which church he served for the rest of his life. Three of his sons became ministers.