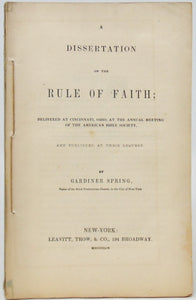 Spring, Gardiner. A Dissertation on the Rule of Faith; delivered at Cincinnati, Ohio, at the Annual Meeting of the American Bible Society, and published at their request. New-York: Leavitt, Trow, & Co., 1844. First Edition. [9364]
Removed, lacks the front of the wrapper, 9 x 5 3/4 inches, 104 clean pp. Good.
A treatise comparing the Bible as the rule of faith with the Roman Catholic concept that the Church is the rule of faith. "I cannot express, in a single sentence, the entire compass of the following observations better than by saying, that the design of them is, to compare the fallibility of the church of Rome, with the infallibility of the sacred Scriptures, as a Rule of Faith."

Rev. Gardiner Spring, (1785-1873), American Presbyterian minister, pastor of the Brick Street Presbyterian church in New York City for 63 years. An excellent scholar, he commenced the study of the Greek & Latin languages at the age of 12. Dr. Spring was a Calvinist, a friend of the American Bible Society, and an advocate of missions and revivals, although critical of what he considered to be "spurious revivals." He was widely useful as an author and preacher and "few men in any profession have made a more enduring mark on the age."