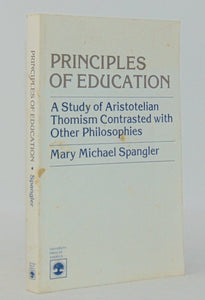 Spangler, Mary Michael. Principles of Education: A Study of Aristotelian Thomism Contrasted with Other Philosophies. Washington DC: University Press of America, 1983. First Edition. ISBN: 9780819130167. [2649]
Good paperback, a few spots on the white covers, the text is clean and unmarked, binding is fine apart from the blotches. Good. Paperback.

"This textbook is intended to be an introductory study of some of the perennial questions asked by educators...[it' is an explication of the essential factors in the educational process: its formative procedures; its goal, the student and curriculum; the role of family, state, and church...The philosophical position throughout every chapter is that of Aristotelian Thomism. In the treatment of each topic, this position is contrasted with that of Renaissance thought, naturalism, and experimentalism." - Preface.