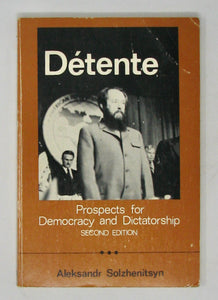 Solzhenitsyn, Aleksandr. Detente: Prospects for Democracy and Dictatorship. New Brunswick: Transaction Books, 1980. Second Edition. ISBN: 9780878557509. [7137]
Some creasing to the covers, 5 1/2 x 8 inches, former owner's name on ffep, neat blue ink underlining in many places, top corner of pages bumped. Acceptable. Paperback.

Three essays by Solzhenitsyn: The Exhausted West; America: You Must Think About the World; and Communism: A Legacy of Terror.

Followed by Commentary from Arthur Schlesinger, Alex Simirenko, Melvin Gurtov, Lynn Turgeon, Amitai Etzioni, Richard Lowenthal, Norman Birnbaum, and Irving Louis Horowitz.