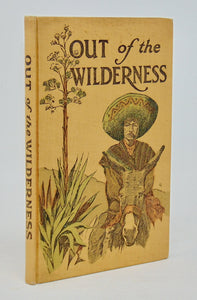 Skinner, J. W. Out of the Wilderness. Richmond, Va. | Texarkana, Ark.-Tex.: Presbyterian Committee of Publication, 1925. First Edition. [7505]
Gold pictorial cloth with illustration of a Mexican man riding a burro, 5 1/4 x 7 3/4 inches, 143 (1) clean pp., many b/w illustrations from photographs. Very good. Hardcover.

James W. Skinner, D. D. (1855-1931), b. Fayette Co., Kentucky; d. Kingsville, Texas; Princeton Seminary graduate (1883). At the time this book was written he was President of the Texas-Mexican Industrial Institute in Kingsville, Texas, an institution created to offer an education to young boys from Mexico.

The book is a study series on Home Missions in the South, designed for class use. It shows the need and offers solutions, one of which is to point out that 700 vacant church buildings existed in the region, and if these could find pastors much good would be done. In addition to Mexicans, there are sections on Choctaw Indians; Alabama Indians; Jews both foreign and domestic; Czecho-Slovaks; Hungarians; Foreigners in West Virginia; Syrians; Italians (at Birmingham and Kansas City); Cubans; and the French, Hungarians, Italians, and Chinese in Louisiana.