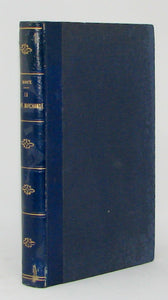 Roux, Louis. La Marine Marchande. L'Avenir de la Construction Navale et de L'Armement Maritime en France; Preface de M. J. Da. Piaz. Paris: Payot, 1923. 1st. [868]
Blue leather spine with gilt rules and title, blue cloth bords, some light fading/spotting to the boards, 21.5 x 14.5 cm, 343 clean pp., tight. French text.  Very good. Hardcover.

"Votre livre arrive au moment opportun. Le problème de la Marine marchande est bien d'actualité. Comme tous les problèmes qui se posent après la Grande Guerre, il a un caractère international; il est nécessaire de l'exposer non plus comme il l'a été jusqu'a present, c'est-a-dire au point de vue de notre pays seulement, mais en envisageant les diverses questions qu'il soulève dans toutes les nations maritimes." - Preface.