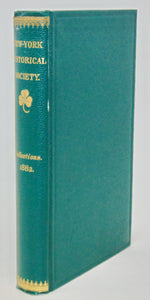 Committee on Publications. Collections of the New-York Historical Society for the Year 1882 (Publication Fund Series). New York: Printed for the Society, 1883. First Edition. [8957]
Green textured cloth with bright gilt titles, 9 3/4 x 6 1/4 inches, xiv., 515 clean pp.; many of the leaves in this volume are unopened (not cut at the top edge). 4 plates of maps/battle plans. A few small white spots on the binding. Very good. Hardcover.

"The contents of this volume, comprising the Journal of Lieutenant John Charles Philip von Krafft, 1776-1784, and the Letter-book of Captain Alexander McDonald, 1775-1779, will be highly estimated by the student of American history, whose researches are directed to the period of the American Revolution. Both of these interesting contributions furnish new and important details of that struggle, and possess the charm, which personal interest and participation in events confer upon their narration." - Introduction.