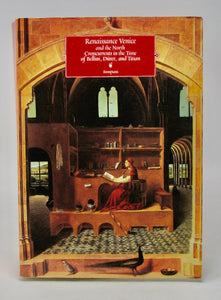 Aikema, Bernard; Brown, Beverly Louise [editors]. Renaissance Venice and the North Crosscurrents in the Time of Bellini, Durer, and Titian; for the Minestero per i Beni e le Attivita culturali, Giovanna Nepi Scire. Milan: Bompiani, 1999. First Edition. ISBN: 9788845243042. [1705]
Oversized softcover, 11 3/4 x 8 1/4 inches, over 700 pp. printed in four columns, with hundreds of reproduced artworks, many in full color. Spine has a crease, covers with a few corner creases, signs of use. Very good. Paperback.

English text.
"After the Palazzo Grassi's exceptional exhibition on Renaissance architecture, it was a logical choice that a major event for 1999 should be an exhibition on the painting of the same period. This time the choice fell specifically to the art of Venice...This exhibition marks the first time that masterpieces of Netherlandish, German, and Venitian painting have been assembled under one roof, where, at the same time, they can be seen within the context of the cultural exchange brought forth through that extraordinary vehicle of communication - the graphic arts." - Giovanna Melandri.

This volume features glorious works of art with critical commentary.