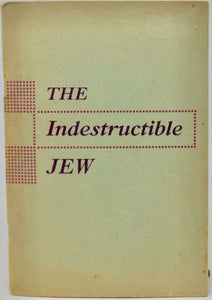 Raud, E. The Indestructible Jew. Brooklyn: National Literature Society, ca. 1950?. Third Edition. [9119]
Green wrapper, 7 1/2 x 5 1/4 inches, 41 clean pp. Good. Paperback.

Written soon after the modern state of Israel was established. Dispensational musings by E. Raud, about whom we were unable to discover anything.

Chapters on the Jews and Abraham, Moses, Christ, the Church, Jacob's Trouble, and the Kingdom.