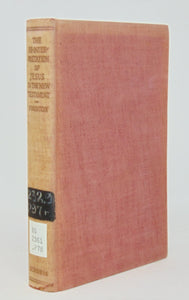 Purinton, Carl Everett. The Re-Interpretation of Jesus in the New Testament. New York: Charles Scribner's Sons, 1932. [8130]
Faded red cloth, 5 1/4 x 7 3/4 inches, xiv., 217 clean pp., tight, no dj. Ex college library with the expected additions. Good. Hardcover.

Carl Everett Purinton (1900-1982), b. Lewiston, Maine; d. Shepherdstown, West Virginia. Educated at Bates Collebe and Yale University, he was professor of religion at Smith College and Beloit College, and became chairman of the departments of religion at Adelphi College and at Boston University.