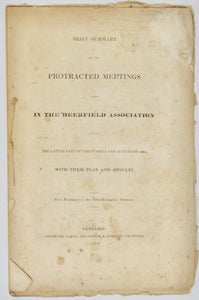 Deerfield Association. Brief Summary of the Protracted Meetings held in the Deerfield Association during the latter part of the Summer and Autumn of 1834, with their plan and results. First published in the New-Hampshire Observer. Concord [NH]: Observer Press, 1835. [3472]

Untrimmed stab-sewn pamphlet, no wrappers, 10 x 6 1/2 inches, 32 pp., top inside corner torn with loss last 4 leaves, not affecting any text. Good.

Roberts, Revival Literature, no. 717. Reports on the meetings for revival held in Deerfield, Northwood, Epsom, Chichester, Pittsfield, Loudan, Barnstead, Gilmanton Iron Works, Gilmanton First Church, Gilmanton Centre, and Meredith Bridge.