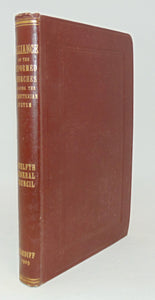 Fleming, J. R. [editor]. Proceedings of the Twelfth General Council of the Alliance of Reformed Churches holding The Presbyterian System, held at Cardiff, 1925. Edinburgh: Office of the Alliance, 1926. First Edition. [8920]
Russet cloth, 9 x 6 1/4 inches, frontispiece illustration of the Windsor Place Presbyterian Church, Cardiff. 495 pp., tight. Bottom page corners were sometime wet, faint stain in some sections & on closed page edges, paper at corner wavy. Good. Hardcover.

The records of the ten-day conference with many papers and presentations, including The Founding and Achievements of the Alliance, by Rev. J. R Fleming, D. D.; The Development of our Churches since 1875: In America, by Rev. E. D Warfield, D.D.; In Great Britain, by Rev W. Lewis Robertson; On the Continent, by Rev. Ch. Merle d'Aubigné, D.D.; Addresses on "Is a Common Statement of the Faith Desirable and Practicable for the Presbyterian World?", one of which is by Dr. Karl Barth; Addresses on "The Ministry and Sacraments of the Reformed Churches"; Addresses on "Reformation Principles and their Modern Applications": including on Authority of Holy Scriptures, Sovereignty of God, Justification by Faith; other treatments deal with missions, Jews, persecutions, youth, &c.