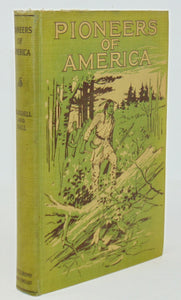 Blaisdell, Albert F.; Ball, Frances K. Pioneers of America; with Illustrations by Frank T. Merrill. Boston: Little, Brown & Co., 1922. First Edition. [8796]
Green cloth, front with woodland & Indian scene, top edge of front board partly frayed, otherwise very good, clean, tight. 18.5 cm (7 1/4 x 4 3/4 inches), publisher's complimentary card on front paste-down, x., 154 clean pp. With frontispiece & 5 additional b/w plates by Frank T. Merrill. Good. Hardcover.

Frontier adventures from colonial times to the boyhood of Abraham Lincoln, written in story form for the older child or young adult.
Includes the Capture of Quebec, Daniel Boone, Pontiac, Massacre at Mackinaw, Vermont Frontier, Elizabeth Zane, George Rogers Clark, Simon Kenton, Polly Hopkins, Indian fighters, Lincoln's Boyhood on the Frontier, &c.

Frank Thayer Merrill (1848-1936), American artist and book illustrator, best known for his drawings for the first illustrated edition of Louisa May Alcott's Little Women (1880). He also collaborated in the illustration of Mark Twain's first edition of The Prince and the Pauper (1881). Over a fifty-year career he created thousands of illustrations for a wide variety of books. He was deeply interested in American history and illustrated many books on the Revolutionary and Colonial periods.