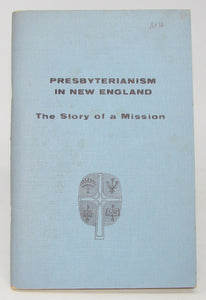 Pickell, Charles N. [editor]. Presbyterianism in New England: The Story of a Mission. NP: Synod of New England, 1962. First Edition. [1514]
Stiff blue wrappers, 9 x 6 inches, "MH" in ink on the front cover, a few pages with stain outline from removed paperclip, 59 pp. plus 25 pp. of photo illustrations of church buildings. Good. Pamphlet.

The history includes the Presbyteries of Boston, Connecticut Valley, Northern New England, and Providence.