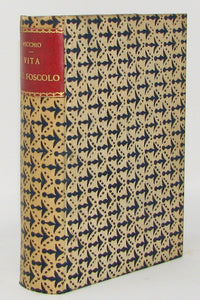 Pecchio, Giuseppe. Vita di U. Foscolo. Con introduzione e note di Pietro Tommasini Mattiucci. Citta di Castello: Lapi, 1915. 1st.[877]
Patterned paper over boards, red leather spine label, 17.5 x 12 cms, 424 clean pp., tight. Text in Italian. Very good. Hardcover.

The second in the series by Mattiucci entitled Documenti di Storia letteraria italiana.