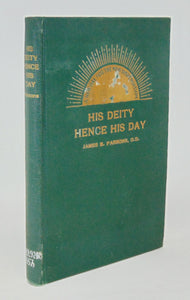 Parsons, James B. His Deity Hence His Day: Or, How the Christian Sabbath Was Changed. Dayton, Ohio: The Otterbein Press, 1927. First Edition. [8217]
Green cloth, gilt titles, light scuffing to binding, 5 1/4 x 7 3/4 inches, ex seminary library with a few stamps, ink call numbers to spine, scuff marks from removed pocket. 95 otherwise clean pp. Contents page with clear tape repair. Good. Hardcover.

Cover title: A New Day for the New Dispensation.

Chapters: Depths of Depravity and Dispensational Measures; Deity Indwells Depravity; A New Day a Memorial to Christ's Matchless Deity; Seventh Day Adventism Is Both a Peril and a Parasite.

Introduction by Bishop H. H. Fout on the United Brethren in Christ.