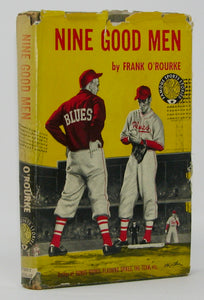 O'Rourke, Frank. Nine Good Men (The Barnes Sports Novel Series). New York: A. S. Barnes and Company, 1952. [6224]
A reprint by Grossett & Dunlap, with A. S. Barnes and Company on title page, Grosset & Dunlap on spine and dust jacket.
Blue cloth, 5 3/4 x 8 1/2 inches, 215 clean pp., tight. Dust jacket chipped and worn, colors dull at spine. We will add a clear wrapper to the dj after taking the photos. Very good in fair dust-jacket. Hardcover.

"In Frank O'Rourke's new baseball novel you will find out about baseball through the eyes of the manager. This is a fascinating side of baseball for on the manager's shoulders fall the problems of all the men connected with a Major League team. The manager of a baseball team is a general, and the success or failure of the baseball tema is his. Nine Good Men is the first novel that gives the inside story of how a baseball organization operates from the top brass down. You will learn how little incidents may make or break a baseball club in this exciting story of a manager's trials and tribulations rebuilding a team that fell apart the previous year to a pennant contender." - publisher.