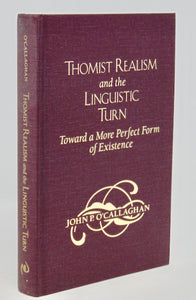 O'Callaghan, John P. Thomist Realism and the Linguistic Turn: Toward a More Perfect Form of Existence. Notre Dame, IN: University of Notre Dame Press, 2003. First Edition. ISBN: 9780268042172. [2891]
Purple cloth hardcover with bright gilt titles, former owner's ink signature on ffep, otherwise as new. Not issued with a dust jacket. ix., 357 pp. Fine. Hardcover.

"Philosophers will be richly rewarded by reading John O'Callaghan's new book, Thomistic Realism and the Linguistic Turn. Based on his broad knowledge of Aristotle and Aquinas, O'Callaghan provides not only an excellent treatment of Aquinass epistemology but also a superb demonstration of just how Aquinas might contribute to contemporary debates. Traditionally, the camps of realism and idealism fiercely engaged one another in the field of epistemology. Thomists participated in confronting idealism from their unique realist position. Post-Wittgenstein, the conflict has been dominated by a form of epistemology that grounds all knowledge in linguistic practice. Since Thomists work in a textual and historical mode, their response to the technical approach of the analytic philosophy in which most of the linguistic epistemologists write has been slow in coming. O'Callaghan expertly closes that gap by successfully bringing together these fields." - publisher.