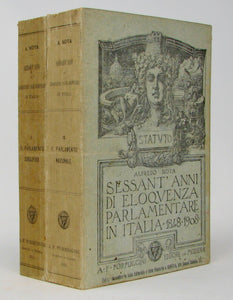 Nota, Alfredo. Sessant' anni di eloquenza parlamentare in Italia (1848-1908). Volume primo: Il parlamento subalpino. Volume secondo: Il parlamento nazionale. Modena: Formiggini, 1911. 1st. 1911-1912, First Editions. [1038]
In the printed publisher's card boards, 23.5 x 16.5 cm, vol. I: XI, (1), 446, (2); Vol. II: XII, 591, (1). Clean, tight. Very good. Hardcover.

Italian text. "
Sixty years of parliamentary eloquence in Italy (1848-1908). first volume: The subalpine parliament. Volume second: The national parliament."