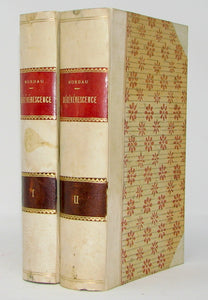 Nordau, Max. DEGENERESCENCE , 2 tomes. Tome 1 : Fin de siecle. Le mysticisme - Tome 2 : L'egotisme. Le realisme. Le vingtieme siecle. Traduit de l'allemand, par Auguste Dietrich. Paris: Alcan, 1895. [802]
2 vols., spines & corners in white leather, red and brown leather spine labels, patterned paper covered boards, 5 1/2 x 9 inches, 429 + 575 pp. Occasional light foxing, some discoloration & blotches to spines, minor fraying bottom of spine on vol. ii. Text in French. Good. Hardcover.

First published in German in 1892, Nordau's treatise attacks the degeneration of art in society and the irrationality and immorality of such men as Friedrich Nietzche and Richard Wagner.

Publié pour la première fois en allemand en 1892, le traité de Nordau attaque la dégénérescence de l'art dans la société et l'irrationalisme et l'immoralité d'hommes tels que Friedrich Nietzche et Richard Wagner.