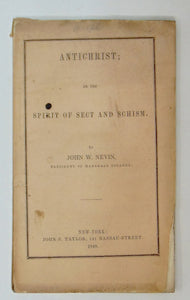 Nevin, John W. Antichrist; or the Spirit of Sect and Schism. New-York: John S. Taylor, 1848. [7616]
Peach printed wrappers, wrappers with old soil & some edge-chipping, 4 1/2 x 7 3/4 inches, first few leaves creased at bottom corner, 89 pp., faded dampstain throughout, most noticeable on the title page. Good. Pamphlet.

Nevin uses most of his Preface defending himself against the charge of Dr. Charles Hodge that he was a disciple of, and totally dependent upon, Schleiermacher.  His treatise identifies Antichrist as the spirit of sect and schism and he exposes, according to his view, what some of those sectarian schisms are, and how to remedy them.

John Williamson Nevin (1803-1886), b. Strasburg, PA; d. Lancaster, PA. A theologian of the Old School, Nevin contributed to the "Mercersburg theology", the German Reformed seminary at Mercersburg, Pennsylvania being the scene of some 13 years of his teaching career. He sought to counter the revivalism of Charles Finney and his followers. After teaching at Mercersburg he became President of Marshall College, from which he wrote this pamphlet. Perhaps Nevin's most influential work was his little book, The Anxious Bench, in which he criticizes revivalism and the disregard of confessional traditions by revivalists. "Nevin wrote from a solid Reformed position and deplored the changes of doctrine and novel methods of the western evangelists." - Roberts, Revival Literature: An Annotated Bibliography (no. 3882).