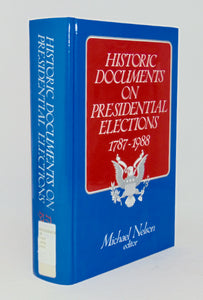 Nelson, Michael [editor]. Historical Documents on Presidential Elections, 1787-1988. Washington DC: Congressional Quarterly, 1991. ISBN: 9780871876072. [8322]
Red, white, & blue hardback, no dj as issued, 7 x 10 inches, xiv., 902 pp., a few library stamps, text is otherwise clean. Ex library from the non-circulating reference section, standard library markups including a white label on the spine.  Very good. Hardcover.

This large tome treats of the most important happenings and documents in American presidential election history. The documents include: important political party platforms; landmark speeches; candidate debates; news articles and campaign broadsides; significant third parties; constitutional origins and development; landmark events in the history of the presidential election process; the vice presidency.