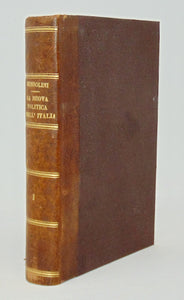 Mussolini, Benito; Gianni, Amedeo. La Nuova Politica Dell'Italia: Discorsi e Dichiarazioni a cura di Amedeo Giannini (vol. i.). Milano: Casa Editrice "Alpes", 1928. Fourth Edition. [8021]
Brown leather spine with bright gilt titles & lines, maroon pebble cloth boards, 5 1/2 x 7 1/2 inches, 374 clean pp., publisher's catalogue, tight. Very good. Hardcover.

Speeches of Mussolini edited by Gianni. The is the first of three volumes that were published. Italian text.