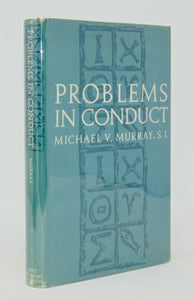 Murray, Michael V. Problems in Conduct. New York: Holt, Rinehart and Winston, 1963. First Edition. [2438]
Very good green cloth hardcover, 335 pp., text is clean and unmarked, with a very good dust jacket. Very good in very good dust-jacket. Hardcover.

With Nihil Obstat & Imprimatur.
"The logical sequence to Father Murray's highly regarded Problems in Ethics, this stimulating text utilizes the general philosophy of St. Thomas to formulate particular norms of Christian behavior. Unlike other texts in applied ethics, this one does not confine itself to considerations of justice alone. It embraces temperance, courage, prudence, and the theological virtues of faith, hope, and charity." - publisher.