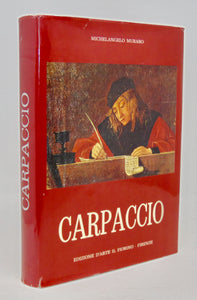 Muraro, Michelangleo. Carpaccio. Firenze: Il Fiorino, 1966. [8572]
Green cloth fine, with good dust jacket. Dj with some edge tears. 13 x 9 3/4 inches. 397, [3] clean pp., tight. 20 tipped-in color plates and 224 reproduction in b/w. Italian text. Very good in good dust-jacket. Hardcover.

"Con questo testo di Michelangelo Muraro dedicato al Carpaccio un altro volume viene ad all collana. Articolata sull'impianto che ormai e consueto e distintivo della collana stess, la vasta materia di cui si inormano arte e problematica capaccesca ha cosi un ordinato rugguaglio, che puo ben dirsi completo."

"With this text by Michelangelo Muraro dedicated to Carpaccio, another volume comes to the series. Articulated on the system that is now customary and distinctive of the series itself, the vast subject matter of which Capaccesca art and problems are informed thus has an orderly information, which may well be said to be complete."