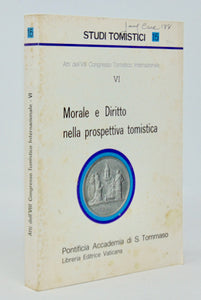 Atti dell'VIII Congresso Tomistico Internazionale. Morale e Diritto nella prospettiva tomistica (Studi Tomistici 15). Citta del Vaticano: Pontificia Accedemia di S. Tommaso e di Religione Cattolica, 1982. First Edition. [2523]
Large paperback, white covers showing spotting and smudges, previous owner's ink signature on front cover and title page, text clean and unmarked. 342 pp. Good.

Essays in Italian, German, French, Spanish, and English.