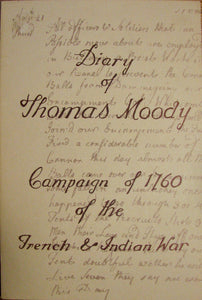 Moody, Thomas; Woodwell, P. M. [editor]. Diary of Thomas Moody: Campaign of 1760 of the French & Indian War. South Berwick, Maine: The Chronicle Print Shop, 1976.
Brown printed wrappers, 6 x 9 inches, 56 (2) pp. with folding map. Fine. Paperback.  [4617] 
The diary of Second Lieutenant Thomas Moody, b. 1733 in York, Maine to Rev. Joseph Moody, chronicles his experience of the expedition against Montreal in 1760.