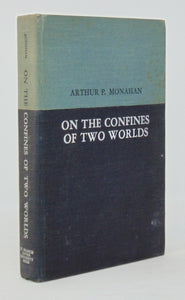 Monahan, Arthur P. On the Confines of Two Worlds: An Introduction to the Christian Philosophy of Man. Antigonish, Nova Scotia: St. Francis Xavier University Press, 1964. First Edition. [2673]
Good two-tone cloth hardcover with corner bumps and light soil, 6 x 9 1/4 inches, 380 clean and unmarked pp. Good. Hardcover.

Volume II. in the series Introduction to Christian Philosophy.

"The specific purpose of the present volume...is to provide an introduction to an adequate Christian philosophy of man. The doctrinal basis for this study is the philosophical view of man as found in the Summa Theologiae of St. Thomas Aquinas. Its historical context is mediaeval Christian thought, within which the doctrine of Aquinas developed. Its structure as a sourcebook provides the opportunity for an in-depth investigation of the Thomistic response to the basic philosophical problems concerning man." - Preface.