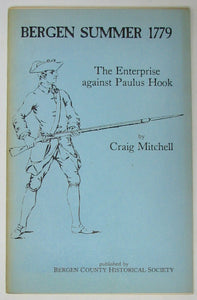 Mitchell, Craig. Bergen Summer 1779: The Enterprise against Paulus Hook. Bergen County Historical Society, 1979. [6424]
Printed card wrappers, 5 1/2 x 8 1/2 inches, 46 pp, several maps & illustrations. Very good. Paperback.

A history of the American capture of Paulus Hook at present-day Jersey City in 1779, a courageous nighttime raid led by Major "Light Horse Harry" Lee that dealt a blow the British occupation of New Jersey.