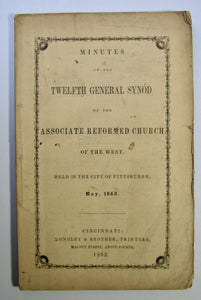 Minutes of the Twelfth General Synod of the Associate Reformed Church of the West. Held at City of Pittsburgh, May, 1852. Cincinnati: Longley & Brother, Printers, 1852. First Edition. [6115]
Printed wrapper, faint pencil signatures of Wm. Findley on front, wrappers show old sil & light stains, 5 7/8 x 9 1/4 inches, 66 pp., some edge-wear. Good. Pamphlet.
Includes statistical reports of the congregations, reports from various areas, discussions regarding theological students and missionary efforts.

The Associate Reformed Presbyterian Church is an American denomination, organized in Philadelphia, 1782, by the merger of the Associate (Seceder) Presbyterian Church and the Reformed Presbyterian Church. Both of these bodies were Scottish in origin and consisted mainly of Scottish emigrants to America. The Associate Reformed Synod was organized in May, 1801, at the time consisting of four Presbyteries and seventeen ministers. On 1820 the Synod of Scioto withdrew and became an independent synod under the name "The Associate Reformed Synod of the West."