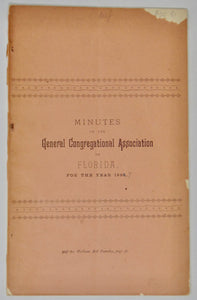 Minutes of the General Association of the Congregational Churches of Florida, at the Fourth Annual Meeting, held at Daytona, January 18-21, 1887, with Reports, Statistics, Constitution, By-Laws, etc. Washington : Printed for the General Association., 1887. First Edition. [91] 

Paper wrapper, 9 x 5 1/2 inches, center crease, 36 clean pp., (1) p. of advertising, some edge chipping to the wrapper. Good. Pamphlet.

A nice early Florida item, from the days before air conditioning! This gives the beliefs of the Association, their rules & laws, reports from ministers, etc. It also has very interesting statistics of Florida churches, including the number of male & female members, size of the Sunday School, name of the minister, what year the church was organized, etc. For instance, the oldest church was that of New Smyrna, but it was only 12 years old.