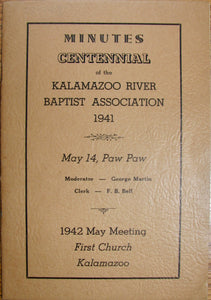 George Martin, Moderator. Minutes Centennial of the Kalamazoo River Baptist Association 1941. May 14, Paw Paw. 1942 May Meeting, First Church, Kalamazoo. [Kalamazoo]: The Association, 1942. 1st .  [425] 
Pamphlet, 8 x 5 1/2 inches, 16 unnumbered pp. Very good. Pamphlet.
An account of the Centennial and records of the churches for May, 1942.  Includes the history of the Association 1842-1942.

Church letters from Battle Creek Summit Park, Ganges, Kalamazoo First, Lawton, Marshall, Paw Paw, and South Haven.