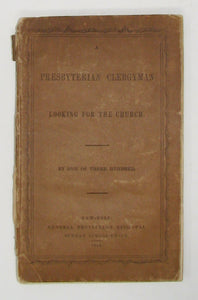 [Mines, Rev. Flavel S.]. A Presbyterian Clergyman Looking for the Church; By One of Three Hundred. New-York: General Protestant Episcopal Sunday School Union, 1849. First Edition. [6980]
Brown printed wrapper, loss of paper to spine with front nearly detached, 4 1/2 x 7 1/2 inches, 177 clean pp., 14 pp. publisher's adverts. Fair. Paperback.

This first edition was published anonymously; later ones identify the author.
An interesting early printing of a work that was later expanded to 580 pages. The publisher says that the demand for this was so great that he began to issue it in parts, as it came from the writer's pen. 

"Born and nurtured in the bosom of Presbyterianism, graduated at her most honoured seat of learning in America, himself a Presbyterian clergyman of no mean reputation; the writer of the following pages came in due time, by the blessing of God, to see the errors of that system, and to look earnestly for the Church most clearly identified by doctrine and usage with that built upon the foundation of the Apostles and Prophets, Jesus Christ himself being the chief corner stone." – from the preface.  Later editions identify the author.

Rev. Mines looks to the church fathers, history, and the scriptures and compares these things with the Presbyterian church in his day.  This is the account, defense, and reasons for his theological journey from Presbyterianism to the Episcopal Church.

Flavel Scott Mines (1811-1852), b. in Virginia, the son of Presbyterian minister; d. San Francisco, CA. He was educated at Princeton College & Seminary, and, after a struggle of conscience, adopted Episcopal views. He spent some years as a pastor in the West Indies, and afterwards as a church planter in California, ministering among the "49ers." Mines was Rector of Trinity Church, San Francisco, at the time of his death.